Wisconsin River Valley Area JATC
Applications are accepted year round for Electrical and VDV Training, from 8:00 a.m. - 4:00 p.m. each workday. They need to be completed in person at:
International Brotherhood of Electrical Workers
Local Union 388
5224 Heffron Court
Stevens Point, WI 54481
(715) 341-2696
Applicants Must Appear In Person To Complete The Application Form.
All applications will be received and considered without regard to race, color, religion, sex, or national origin.
Basic Minimum Requirements To Qualify For Testing And An Interview:
Must be at least eighteen (18) years of age at the Time of Assignment
Must be a HIGH SCHOOL GRADUATE or have a General Equivalency Diploma
Must have one (1) year of high school ALGEBRA with a passing grade of "C",
or one (1) post high school ALGEBRA course with a passing grad of "C"EACH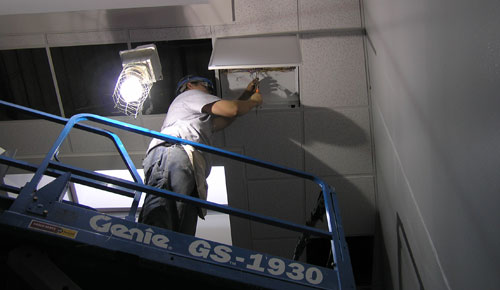 Applicant Who Meets All Basic Requirements Will Be Interviewed By An Interview Committee

The interviewers will consider: reliability, interest, attitude, judgement, cooperativeness, as well as other personal traits. Applicants will be selected for the available apprentice vacancies in the order of ranking resulting from rating of interviews.

It is the intent of this Committee, in perpetuation of the basic skills required in the construction industry, to comply with all Federal and State Standards required in the selection and placement of apprentice applicants. The recruitment, selection, employment, and training of apprentices during their apprenticeship, shall be without discrimination because of race, color, religion, national origin, sex, creed, handicap, marital status, ancestry, sexual orientation, arrest record, conviction record, or membership in the military forces of the United States of this State. The sponsor will take affirmative action to provide equal opportunity in apprenticeship and will operate the apprenticeship program as required under Title 29 of the Code of Federal Regulations, Part 30, and all other applicable state laws.





Note: If you wish to use an absolute template path (for example, template="/mypath/index.cfm") with CFINCLUDE, you must create a mapping for the path using the ColdFusion Administrator. Or, you can use per-application settings to specify mappings specific to this application by specifying a mappings struct to THIS.mappings in Application.cfc.

Using relative paths (for example, template="index.cfm" or template="../index.cfm") does not require the creation of any special mappings. It is therefore recommended that you use relative paths with CFINCLUDE whenever possible. Could not find the included template page_column.cfm.

The Page You Requested Was Not Found, or May Be Under Construction.

Please Check the Address And Try Again.

Click Here to Return To the Main Page

-